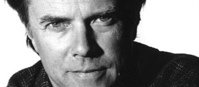 I had the chance this evening to attend a talk by renowned designer David Carson— part of AIGA Colorado's "Design Icon" series of lectures. David is a talented public speaker and had many insightful, interesting, and humorous things say about his work and the philosophy of design.
Readability has a lot to do with what you are interested in reading.

Everyone has intuition; you just have to learn to trust it.

Helvetica is the choice of corporations and war and mothers, and sometimes, lazy designers.

Find the thing that gets you excited and run with it.

If you can't design, you can always become an information architect.

Nobody can re-create who you are, your background. Those things make your work special. Your personality must come through in your work!
While I'm personally not such a huge fan of Carson's distinctive chaotic style, nor do I agree with everything he said, it's hard to deny his massive skill and success.
For more information about David Carson and his work, take a look at his new book, Trek.