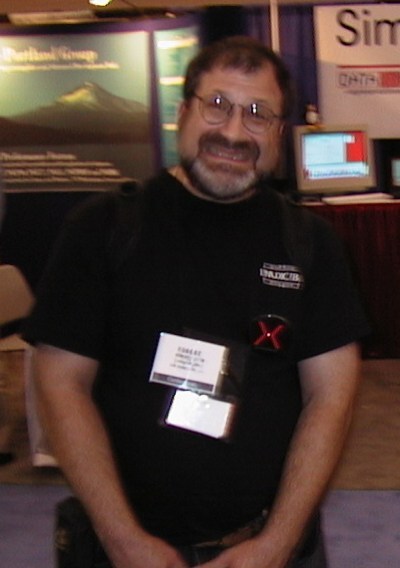 Rob Levin, (aka. "lilo," "somegeek") died this morning after being involved in a tragic hit-and-run accident while riding his bicycle on the night of September 12th. He had sustained serious head injuries and was in a coma at the Neuro Trauma Intensive Care unit at Ben Taub Hospital in Houston in the days since the accident. Rob is survived by his wife Debbie and 8 year old son Benjamin.
Many of you will know Rob as the Director of the Peer Directed Projects Center, a 502(c)3 non-profit organization dedicated to the advancement of Open Source, Free Software, and peer-directed projects around the world. In addition to handling the administrative duties of running the PDPC, Rob was the head caretaker of the Freenode IRC network, which has long been the center of collaboration for many online communities and projects.
Rob sacrificed a lot to work for PDPC and Freenode. For the past few years, he and his family lived in a trailer park outside of Houston, TX. As the trailer they lived in was nearing the end of its useful life, Rob set up Spinhome.org in hopes of raising money to purchase a new home for his family. Unfortunately, some in the Freenode community took offense to this and accused Rob of using network resources for personal gain. What these small brained imbeciles failed to realize is that without Rob, Freenode, as well as countless widely used Open Source projects would not be what they were today, if they still existed at all.
I can't say that I knew Rob well, but I can say with confidence that he was my friend. In the few conversations we had, he confided in me the fact that his son Benjamin suffers from quite severe ADHD. On this point he and I connected, as I have had to grow up with the trials and tribulations of having ADHD. All I can hope is that some of the advice I gave him about possible treatment for Ben did some good.
Robs wife Debbie has requested donations be sent to the PDPC to keep Freenode going strong, as Rob would have wanted, or given to your local bicycle safety initiative.
You did a great deal for a great many of us Rob, and you will be sorely missed. Rest in peace my friend.